• Janean Parker • emu meat • emu oil • emus • heart healthy • the other red meat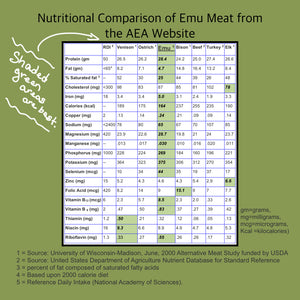 Fun Friday Emu Fact: So last week I told you how tasty emu meat is. But... it is also good for you!! Thank you to the AEA for this wonderful meat comparison chart. You can see that emu meat is very lean and high in protein, making it a nutritious alternative, especially for those folks with alpha gal (a tick borne allergy to mammalian meat) or other food sensitivities. #3Feathersemus #emumeatisgoodforyou #emutheotherredmeat #alphagal #farmingisfun #fridayfunfact
---
• Janean Parker • emu meat • emu oil • emu products • heart healthy • the other red meat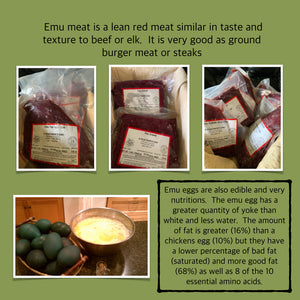 We raise emus for their emu oil, which we use to make all our products. But we also sell emu meat. Most people thing emu meat is a white meat like chicken or turkey, but instead it is more like beef. It is also super nutritious. We have USDA meat for sale in steaks or as ground meat. If you haven't tried it before, you are missing out. #3Feathersemus #farmingisfun #emutheotherredmeat #hearthealthymeat #fridayfunfact
---
• Janean Parker • American Emu Association • emu industry • emu oil • emu products • emus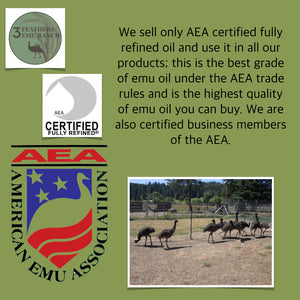 Since we got our first emu pairs in 2009, we have been members of the American Emu Association, a national, member driven, non-profit agricultural association dedicated to the emu industry. If you are at all interested in raising emus and selling emu products, it is worth it to become a member. Check them out at aea-emu.org #3Feathersemus #emuoilisgoodforyou #fridayfunfact #emufarmer
---
• Janean Parker • 3 Feathers • 3feathers • buy local • christmas gifts • emu news • emu oil • emu oil products • skin care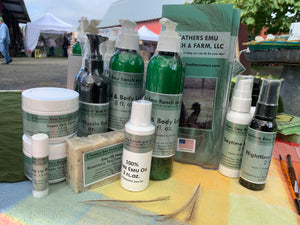 We are all finished with markets this season and settling in to a lovely fall. Thank you to everyone that came by to say hi at the Chehalis, Centralia, Tumwater, and Astoria markets. All our products are available online except our emu meat and we are working this fall to get our shipping sorted out so we can sell that online as well. In the meantime, if you are looking for meat, give us a call--we have finished processing and our freezers are full.
---
• Janean Parker • 3 Feathers • Dry skin • emu oil • emu oil products • rash • scars • sunburn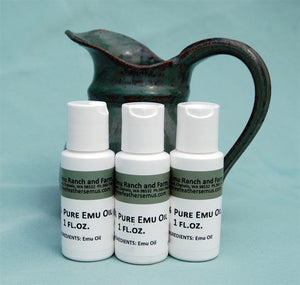 Emu oil is emu fat that is rendered and refined into pure oil. It has several unique properties because of its combination of essential fatty acids--Omega 3, 6, and 9 with a lot of the #goodforyou Omega 3. It penetrates quickly into your skin, is hypoallergenic and safe to use even on sensitive skin, and won't clog pores. It is an all natural way to soothe many minor conditions such as burns, rash, scars, dry skin, bruises, muscle aches, cuts, sunburn, insect bites, stretch marks, and much more. Try some today and see for yourself why we say it is...